Session Fees - Options
Alan's rates for sessions are adjusted for multi-session bookings, mentoring packages, need based discounts and abundance based contributions. Ask also about insurance. Class and group fees vary, see event listings, or inquire.
All phone session fees are prepaid. Fees for in-person sessions are payable at the session.
Checks or money orders being mailed should arrive before the session appointment. Make payable to Alan McAllister, mail to: 3333 Iris Avenue #209, Boulder CO 80301
You can use credit cards, debit cards, or transfer funds directly from your bank account via PayPal by clicking on this button.


NOTE: you DO NOT have to have, or create, a PayPal account to use this method.
This is an encrypted process for your protection.
Session Gift Cards
Contact Alan about gifting a session or sessions to a loved one or friend.

Currently offering a Holiday Special of $80 per session ($125 value).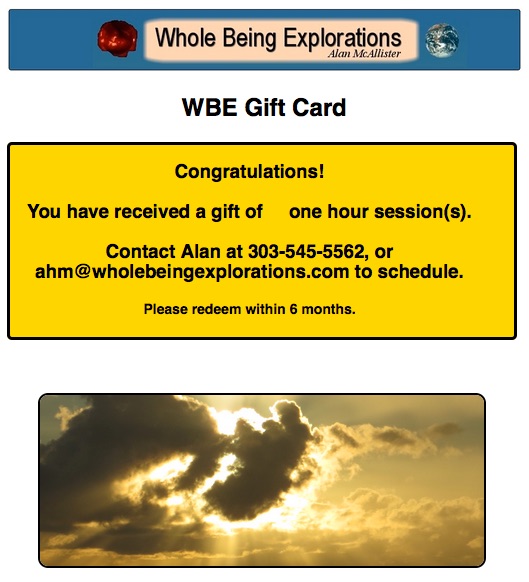 Donations
If you would like to support the WBE site and Alan's work, please click here
This is an encrypted process for your protection.

Last updated October 2, 2016. © Alan McAllister.